In a world of uncertainties and variables, emergency rescue skills have become essential in our lives. To help employees better master these skills, we organized an emergency rescue training on March 5, 2023. This training aims to improve the staff's coping ability, so that they can be comfortable in emergencies and protect their own safety and of others.
PART.01
First Aid Training
CPR | Accidents | First aid measures
For this training, we invited two teachers, Yang Qian and He Songqing from Heart Guardian First Aid Training Center, as the guest speakers, who taught us how to identify first aid scenarios, operate basic first aid skills, and master effective CPR in a simple, easy-to-understand way. They also introduced first aid and response measures for the more common accidents in life, such as heat stroke, trauma, fracture, and unexpected airway obstruction.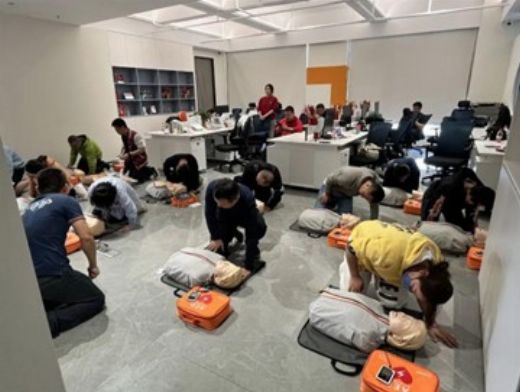 PART.02
Simulation Exercise
Emergency | Rescue | Protection
In addition, we also arranged a simulation exercise to let employees experience the emergency rescue scenario and improve their ability to deal with emergencies. In the drill, the ambulance staff instructed each employee to help them handle the injury correctly and quickly and to transfer it to the medical personnel for further treatment within the shortest time. Mastering this knowledge and skills will provide a safe foundation for employees and enable them to become qualified citizens who know how to respond to first-aid scenarios.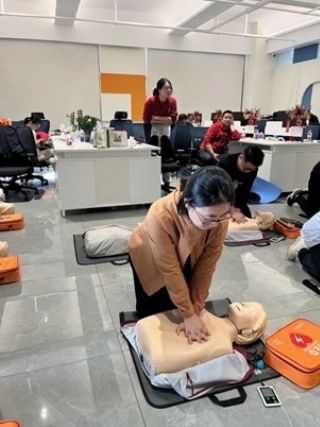 PART.03
People Care
Health | Safety | Team
Emergency rescue training is not only the company's concern for the health and safety of employees but also an opportunity for employees to practice and communicate so that they can be more comfortable in their future work and more confident in dealing with various emergencies. The training also gives employees a deeper understanding of the company's concern and care for employees, allowing them to better understand the company's safety culture and development philosophy. This training will not only help employees' personal growth but will also benefit the company's development and the employees' teamwork.